22 April 2022
MEDIA RELEASE 
Consumers will most likely be the ones to foot the $84 million bill for their favourite beer, wine or spirit due to the historic rise in inflation announced yesterday, says the NZ Alcohol Beverages Council (NZABC).
The 6.9% rise in the Consumer Price Index (CPI) is used to increase the excise tax on alcohol. At $1.2 billion currently, this works out to be an additional $84 million of excise tax that producers and hospitality businesses are in no position to absorb.[i]
"Businesses are already absorbing many increased costs – transport, fuel, cost of goods and services, regulatory and compliance costs, and excise tax. Shipping costs have trebled, aluminium has doubled, and minimum wage increases are being passed on through the supply chain. There comes a tipping point where the pressure of rising costs mean it's no longer viable for a business to absorb those mounting costs, and they must consider passing some or all on to customers. Customers can't outpace inflation either; they are also keeping an eye on expenses and tightening their belts," says Bridget MacDonald, NZABC's Executive Director. 
Excise tax applies to alcohol produced for consumption, but the tax paid is escalating despite alcohol consumption decreasing around 25% since the late 1970s.[ii] Surprisingly, only around half of Kiwis (56%) realise that in addition to GST, there is an excise tax on alcohol beverages.[iii] 
"We are waiting for confirmation on the increase for this year. It will be up to individual businesses to absorb costs or pass them on. But, right now, we've got businesses heading into a quiet winter weighing up whether to pass it onto customers who are already being careful with their spending during this time of economic uncertainty," Bridget says.
ENDS
Need more information? 
Check out cheers.org.nz and alcoholandme.org.nz for more information on what a standard drink is and how to make better drinking decisions.
A good rule of thumb is 'Go no, low or slow'. It's okay to choose no or low alcohol drinks. If you choose to drink, pace yourself and enjoy your drink slowly.
Ministry of Health/HPA Guidelines: Low-risk alcohol drinking advice to reduce your long-term health risks by drinking no more than:
– Two standard drinks a day for women and no more than 10 standard drinks a week,
– Three standard drinks a day for men and no more than 15 standard drinks a week,
– AND have at least two alcohol-free days every week. 
Need help? 
Call the Alcohol Drug Helpline on 0800 787 797, free txt 8681, or visit alcoholdrughelp.org.nz.
[i] A 6.9% increase ($84 million) is estimated to result in $1,308,597,115 of excise tax..
Beer in 2021 $410,208,530 increasing by $28,304,388.57
Wine in 2021 $285,791,412 increasing by $19,719,607.43
Spirits in 2021 $493,449,372 increasing by $34,048,006.67
Total with other fermented beverages – From $1,223,342,385.49 to $1,308,597,115
[ii] StatsNZ Infoshare, Alcohol available for consumption to December 2021, published 24 February 2022, https://www.stats.govt.nz/information-releases/alcohol-available-for-consumption-year-ended-december-2021 and http://archive.stats.govt.nz/infoshare/ and https://teara.govt.nz/en/graph/40691/consumption-of-pure-alcohol-1960-2011  Alcohol available for consumption has been trending downward for a number of years. Data shows alcohol available for consumption was 8.734 litres per head of population (15 years and older) in December 2021. There has been a 27% decrease since 1978 when was 12.07 litres per head of population (15 years and older) and a 22.6% decrease since 1986 when there was 11.282 litres per head of population (15 years and older), (see graph 1 below). Note: The per head of population (15 years and older) is the measure used by the OECD.
Graph 1. Litres of Alcohol Per Head of Population in New Zealand (Annual-December, 2010-2021, 15 years and over) Source: Stats NZ Infoshare (February 2022)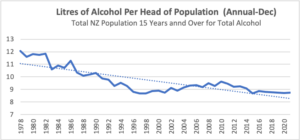 https://www.customs.govt.nz/about-us/about-customs/annual-reports-and-statements-of-intent/
Excise tax has increased 22% in past 5 years: 2020/21 $1,249,269; 2019/20 $1,064,090; 2018/19 $1,085,595; 2017/18 1,017,216.
[iii] NZ Alcohol Beverages Council consumer research undertaken by Curia Market Research, New Zealander's attitudes to alcohol research, December 2021, poll of 1,250 New Zealanders. Consumers were asked whether the statement 'There is no tax on alcohol except GST' was True or False. 56% said it was false, 29% said true and 15% were unsure. People 18-40 years-old were more likely to think it was true (45% true, 42% false, 13% unsure) compared to 41-60 years (19% true, 65% false, 15% unsure) and 60+ years (22% true, 59% false, 19% unsure). 37% of women compared to 21% of men thought it was true.